We source directly from the farm to bring you to the highest quality Pacific Northwest ingredients. Our mash process is powered by solar tubes. We put the power of the sun in every bottle.
Solar Spirits - Our Name, Our Goal, Our Passion
The sun is responsible for life on earth, including the ingredients we use in our spirits. Cranberries, Barley, and Grapes for our main products – plus Coffee beans, Juniper, Coriander, Cinnamon, Orange, Lemon, Lime, Vanilla, Nutmeg, Licorice, Cardamom, and other botanicals to add flavor and magic to our spirits.
But the sun isn't limited to growing plants. With major advances in solar technology, it's quickly becoming an efficient way to generate electricity.
Our goal is to create a distillery powered entirely by the sun.
Our first step to achieve this goal was to install a solar thermal system. This system is wonderful for generating hot water but has limitations at high temperatures necessary for distillation.
To bridge the gap until we can install our own solar electric system, we are purchasing Renewable Energy Credits (REC) to offset our purchased electricity. These REC's are Green-e Energy Certified and meet the environmental and consumer-protection standards set forth by the nonprofit Center for Resource Solutions.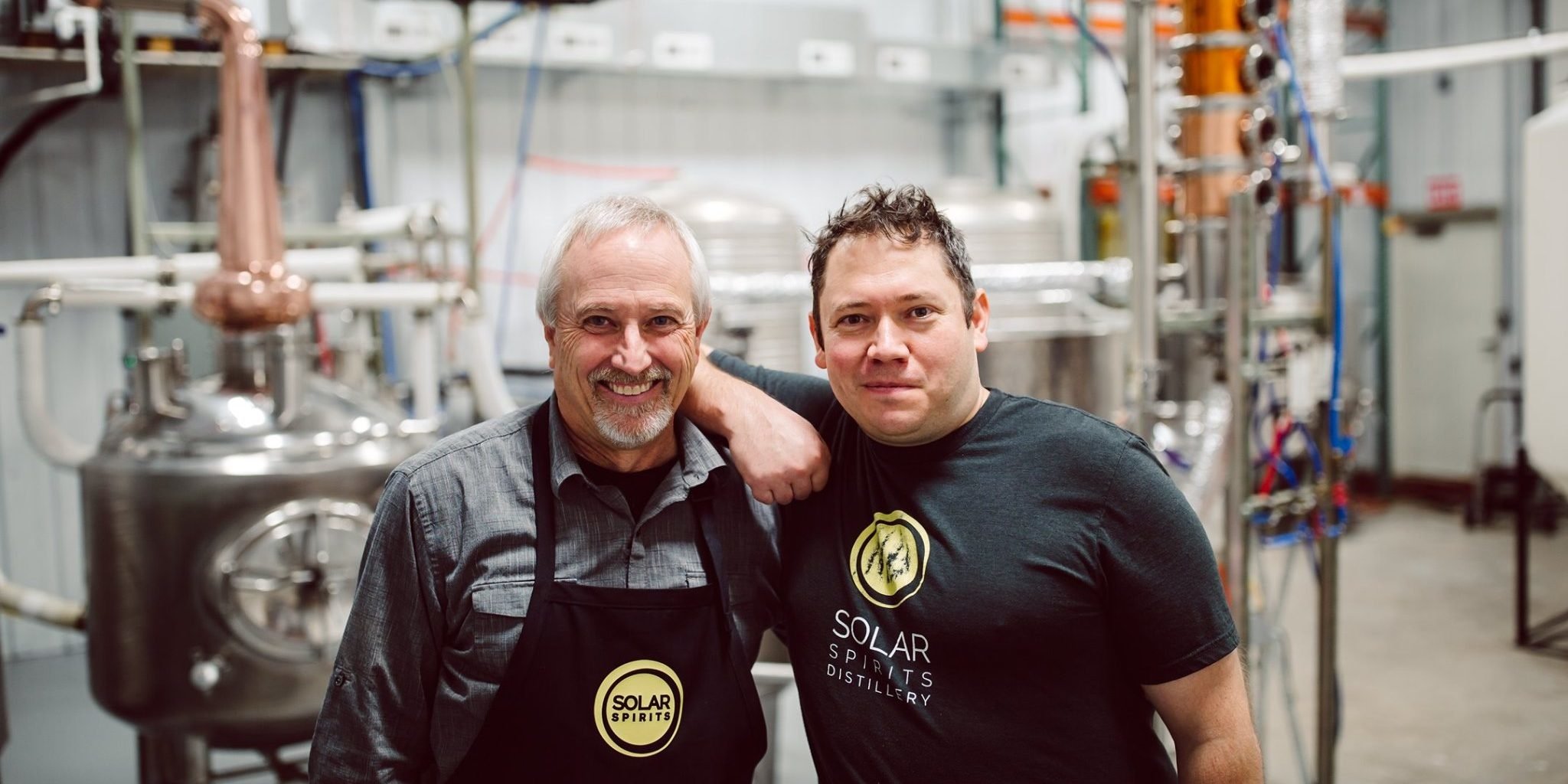 Jim Batdorf (left) has launched a new chapter in his professional life as the Master Distiller at Solar Spirits Distillery. Jim is a PhD. Chemical engineer with thirty years in the design and operation of new process technologies industry. Now he is simply Whiskey Jim and enjoys applying his engineering background in developing new sustainable technology to distill Solar Spirit's award-winning craft vodkas, gins, brandies, and whiskies. Jim enjoys continuing his education on the distillation process, the flavor profiles of spirits, and is on a mission to create best-in-class craft spirits.
Dan Watt (right) is our Production Manager. Joining our team as a Distiller in 2017, he brings a wealth of knowledge on fermentation and production management to Solar Spirits. He is a graduate of WSU Tri-Cities Viticulture and Enology and the Walla Walla Community College Enology and Viticulture programs with several years of tending bar and managing fine dining under his belt while living in Boise, ID.